Working on paper is a domain of trial and error and experimentation in the studio, and the results are closely related to motifs and the subject matter of paintings. Or vice versa. Sometimes, because of their playful and spontaneous character, works on paper become the starting point for the further development of certain themes in paintings. Each work from the series consists of a similar background, yet each is unique in its further elaboration in oil.
THE MAKING OF "HOT SPOT"

Chromolithography in cooperation with Zein Editions.
Photos © Robert Neumüller
HOT SPOT Acrylic and oil colour on 6-plate chromolithography, hand printed on 300g Velin d'Arches rag paper 76 x 90 cm Unique piece out of 20 Signed and individually titled
HOT SPOT Acrylic and oil colour on 6-plate chromolithography, hand printed on 300g Velin d'Arches rag paper 76 x 90 cm Unique piece out of 20 Signed and individually titled
HOT SPOT Acrylic and oil colour on 6-plate chromolithography, hand printed on 300g Velin d'Arches rag paper 76 x 90 cm Unique piece out of 20 Signed and individually titled
HOT SPOT Acrylic and oil colour on 6-plate chromolithography, hand printed on 300g Velin d'Arches rag paper 76 x 90 cm Unique piece out of 20 Signed and individually titled
HOT SPOT Acrylic and oil colour on 6-plate chromolithography, hand printed on 300g Velin d'Arches rag paper 76 x 90 cm Unique piece out of 20 Signed and individually titled
HOT SPOT Acrylic and oil colour on 6-plate chromolithography, hand printed on 300g Velin d'Arches rag paper 76 x 90 cm Unique piece out of 20 Signed and individually titled
HOT SPOT Acrylic and oil colour on 6-plate chromolithography, hand printed on 300g Velin d'Arches rag paper 76 x 90 cm Unique piece out of 20 Signed and individually titled
HOT SPOT Acrylic and oil colour on 6-plate chromolithography, hand printed on 300g Velin d'Arches rag paper 76 x 90 cm Unique piece out of 20 Signed and individually titled
THE MAKING OF "PRINCESSE CHARLOTTE"
Chromolithography in cooperation with Zein Editions.
Films ©Markus Hechenberger
PRINCESSE CHARLOTTE Acrylic and oil colour on 6-plate chromolithography, hand printed on 300g Velin d'Arches rag paper 48 x 58 cm Unique piece out of 25 Signed and individually titled
PRINCESSE CHARLOTTE Acrylic and oil colour on 6-plate chromolithography, hand printed on 300g Velin d'Arches rag paper 48 x 58 cm Unique piece out of 25 Signed and individually titled

MORE EXAMPLES OF UNIQUE WORKS IN SERIES
MIDNIGHT OIL Drama Ink and oil colour on 8-plate chromolithography hand printed on 400g Velin d'Arches rag paper 104 x 160 cm Unique piece, signed and individually titled
ENDZEIT jungle Ink and oil colour on 4-plate chromolithography hand printed on 400g Velin d'Arches rag paper 63 x 72 cm Unique piece, signed and individually titled
POSTE VATICANE Annas Oil colour on archival pigment print 310 g Hahnemühle rag paper 128 x 108 cm Unique piece, signed and individually titled
NORMAL PEOPLE black
Oil colour on archival pigment print 310 g Hahnemühle rag paper 61 x 119 cm
Unique piece out of 3, signed and individually titled
MEN stripes Oil colour on archival pigment print 310 g Hahnemühle rag paper 70 x 100 cm Unique piece, signed and individually titled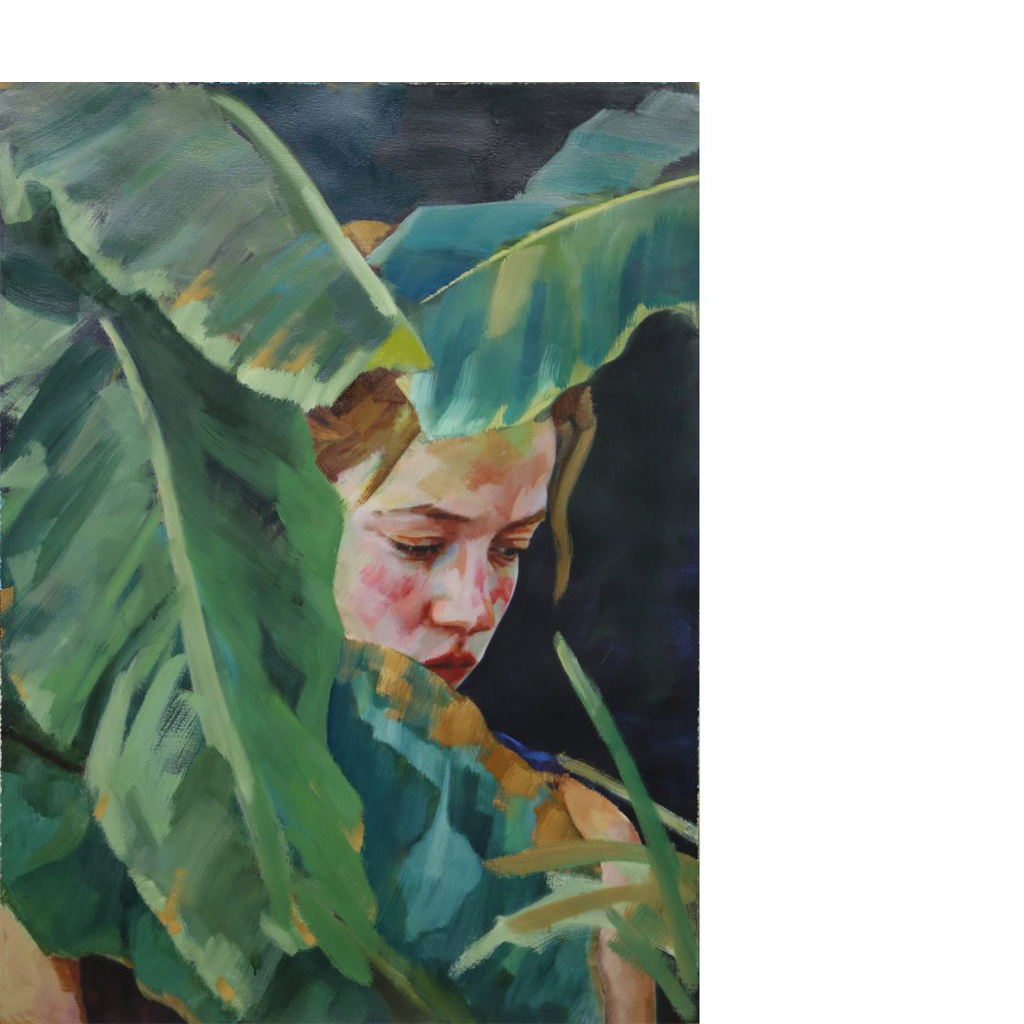 RAUSCHEN secret
Oil colour on archival pigment print 310 g Hahnemühle rag paper 96 x 71 cm
Unique piece, signed and individually titled
SMART DEPART Belle Helene
Oil colour on archival pigment print 310 g Hahnemühle rag paper 80 x 85 cm
Unique piece, signed and individually titled