»Ultimately everything I work on is ambivalent and fragmentary.
Fragments of life without a clear answer.
The message is equivocal, and life is not black and white.«
EXHIBITIONS (A SELECTION)
2022
"Xenia Hausner – Unintended Beauty", CCA Center For Contemporary Art Andratx, Mallorca
"Women in Focus" SAP Art Exhibition, Walldorf, Deutschland
"Xenia Hausner – Unintended Beauty", KÖNIG GALERIE, St.Agnes/Nave Berlin
"XENIA HAUSNER. True Lies", Museum Franz Gertsch, Burgdorf, Switzerland
2021
"XENIA HAUSNER. True Lies", Albertina Museum, Vienna
"XENIA HAUSNER. True Lies", The Pushkin State Museum, Moscow, Russia
"Same Same But Different – Art from Germany and Austria", Galerie Crone, Berlin
2020
"Xenia Hausner – This will have been another happy day!" Palais Populaire, Berlin
"Rosenkavalier", Staatsoper unter den Linden, Berlin
"Schiele – Rainer – Kokoschka / Der Welt (m)eine Ordnung geben", Landesgalerie Niederösterreich, Krems
"A.E.I.O.U. – Österreichische Aspekte in der Sammlung Würth", Galleri Würth, Hagan, Norway
"Treue Freunde. Hunde und Menschen", Bayrisches Nationalmuseum, Munich
8th Moscow International Biennale of Contemporary Art, State Tretyakov Gallery
2019
"XENIA HAUSNER", Forum Gallery New York
"XENIA HAUSNER. BEHIND THE SCENES", Austrian Cultural Forum New York
"Body extended", Shepherd W&K Galleries, New York
"Juntos Aparte", Bienalsur – South America´s Art Biennale, Cucuta Colombia
"Xenia Hausner – Displaced – Storie in Movimento" Palazzo Ducale di Mantova, Museo Archeologico Nazionale, Italy
"Warhol bis Richter" Albertina Contemporary Art, Wien
"The Still Life in Contemporary Art" Galleri Würth, Norway
"Blickwechsel: Neue Frauenbilder" Galerie von Braunbehrens, Stuttgart
"Frauen über Frauen" Galerie Deschler, Berlin
2018
"Die Geste" Ludwiggalerie, Schloss Oberhausen, Deutschland
"Guernica – Ikone des Friedens" Hofburg Innsbruck
"Objects of Desire" Xenia Hausner & Dorothee Golz, Galerie 422, Gmunden, Österreich
"Mit Haut und Haar. Frisieren, Rasieren, Verschönern", Wien Museum
"Xenia Hausner – Shaky Times" Danubiana Meulensteen Art Museum Bratislava
"Black & White", Galerie Deschler, Berlin
2017
"Monet to Picasso. The Batliner Collection", Permanent Collection, Albertina, Vienna
"Glasstress", Palazzo Franchetti collateral to the 57th Venice Biennale
"Xenia Hausner – Exiles" in Personal Structures: Crossing Borders, Palazzo Bembo, Venice
"Seeing with our own eyes", Forum Gallery, New York
"Entfesselt. Malerinnen der Gegenwart", Schloss Achberg, Germany
"Fleischeslust", Galerie Deschler, Berlin
"Modern & Contemporary Art", Forum Gallery, New York
"10 – Alive and Kicking", Dominik Mersch Gallery, Sydney
"Menagerie. An Animal Show from the Würth Collection", Forum Würth Rorschach, CH
2016
"Frau im Bild – Female Portraits from the Würth Collection", Galleri Würth, Oslo
"Rendezvous, Meisterwerke aus der Sammlung Essl", Essl Museum, Klosterneuburg
2015
"From Hockney to Holbein. The Würth Collection in Berlin", Martin-Gropius-Bau, Berlin
"Personal Structures: Crossing Borders", Palazzo Mora, Venice
"Soft Power", Leo Gallery, Shanghai
"Girl, Girls, Girls", Galerie Deschler, Berlin
Xenia Hausner "Some Hope", FO.KU.S, Innsbruck
2014
Xenia Hausner "Look Left – Look Right", Today Art Museum, Bejing
Xenia Hausner "Look Left – Look Right", The Pao Galleries, Hong Kong Arts Center, Hong Kong
"Glanzlichter. Meisterwerke zeitgenössischer Glasmalerei im Naumburger Dom", Naumburg
"Die Andere Sicht", Essl Museum, Klosterneuburg
2013
"Sie. Selbst. Nackt." Paula Modersohn-Becker Museum, Bremen
"Painting Water", Berlin Art Week, Galerie Deschler
"A.E.I.O.U. – Österreichische Aspekte in der Sammlung Würth", Museum Würth, Künzelsau
2012
"Xenia Hausner – ÜberLeben", Essl Museum, Klosterneuburg
5th Beijing International Art Biennial, Beijing (China)
"Glass painting of the 21st century", Centre international du Vitrail, Chartres
"Xenia Hausner – Flagrant délit", Musée Würth France, Erstein
2011
"Xenia Hausner – Damage", Shanghai Art Museum, Shanghai
"Sense of Family", Installation Ringturm, Vienna
"Glasmalerei der Moderne", Badisches Landesmuseum, Karlsruhe
2010
"Intimacy. Bathing in Art", Kunstmuseum Ahlen, Ahlen
"Trailblazer", Gabriele Münter Prize 2010, Martin-Gropius-Bau, Berlin
2009
"Xenia Hausner", Palais Liechtenstein, Forum für Zeitgenössische Kunst, Feldkirch
"Yearning for an Image: the Portrait through the Ages", Kunsthalle Krems
2008
"ON Europe" first Montijo International Biennal, Portugal
"You and I", Forum Gallery, New York
2007
"Two", Galerie von Braunbehrens, Munich
"Back to the Figure", Kunsthaus, Vienna
2006
"Back to the Figure – Contemporary Painting", Kunsthalle der Hypokulturstiftung, Munich
"Works on Paper", Forum Gallery, New York
"Xenia Hausner – Glücksfall", Kunsthaus Wien
"Austria: 1900 – 2000 Confrontations and Continuities", Sammlung Essl, Klosterneuburg
2005
"Round Leather Worlds", Martin-Gropius-Bau, Berlin
"Physiognomy of the 2nd Republic", Austrian Galerie Belvedere, Vienna
"Xenia Hausner – Glücksfall", Ludwig Museum, Koblenz
2004
"Upper Class – Working Girl", Galerie der Stadt Salzburg
"Strange. Reports of a Far Nearness", Kunstfest Weimar "Pélerinages"
"Xenia Hausner – 2nd Nature", Charim Galerie, Vienna
2003
"Xenia Hauser – Lady's Choice", Galerie Deschler, Berlin
"Xenia Hausner – New Paintings", Forum Gallery, Los Angeles
2002
"Xenia Hausner – Paintings", Galerie Kämpf, Basel
"Xenia Hausner – Paintings", Galerie Hohmann, Hamburg
2001
"Xenia Hausner – New Works", Rupertinum, Museum der Moderne, Salzburg
"Works on Paper", Galerie 422, Gmunden
"Xenia Hausner – New Works", Galerie Thomas, Munich
2000
"Xenia Hausner – Heart Matters", Käthe-Kollwitz-Museum, and Russian State Museum, St. Petersburg
"Xenia Hausner – Heart Matters", Forum Gallery, New York
"Xenia Hausner – Paintings", Ernst Barlach Museum, Hamburg Wedel
1999
"Figuration", Rupertinum Museum der Moderne, Salzburg, Museion Bozen und Ursula Blickle Stiftung, Kraichtal
1998
"Reality and Dream", Berlin Galerie, Berlin
"Xenia Hausner – Paintings", Kunsthalle, Koblenz
"Xenia Hausner – The Things of Life", Kunstforum Hallein
"Xenia Hausner – Love Fragments", Jesuitenkirche Galerie in Aschaffenburg
1997
"Xenia Hausner – Love Fragments", Kunsthalle Vienna und Museum der bildenden Künste, Leipzig
"Contemporary Art in Austria", Europäisches Währungsinstitut, Frankfurt am Main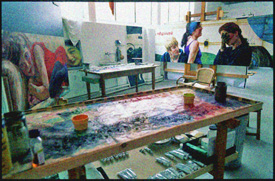 1996
"The Power of Images", Martin-Gropius-Bau, Berlin
"Human Pictures", Galerie Thomas, Munich
"Masterpieces of Austrian ContemporaryArt", Galerie Heike Curtze, Salzburg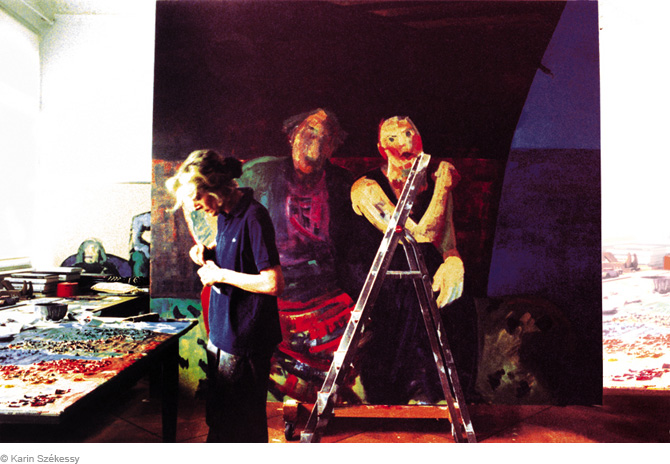 SHORT BIOGRAPHY
Xenia Hausner was born 1951 in an Austrian artist family. She studied stage design at the Academy of Fine Arts in Vienna and the Royal Academy of Dramatic Art in London. From 1977 to 1992 Setdesigns for theater and opera productions, including works for Covent Garden London, the Salzburg Festival and Theâtre Royal de la Monnaie Brüssel. Since 1981 Studio in berlin. 1992 shift toward painting. Founding member of Women Without Borders.
Her works have been shown at numerous galleries, art fairs and museums such as Albertina Vienna; Museum Franz Gertsch Burgdorf; KÖNIG Galerie Berlin; Batliner Art Foundation, Belvedere Museum Vienna, Käthe-Kollwitz-Museum Berlin, Shanghai Art Museum, Today Art Museum Beijing, Hong Kong Arts Centre, Russian State Museum St. Petersburg, Museum Würth France Erstein, Würth Collection Oslo, European Central Bank Frankfurt, collateral to the 57th Venice Biennale 2017 – " Glasstress" Palazzo Franchetti Venice; 8th Moscow Biennale, State Tretyakov Gallery; Forum Gallery New York; Bienalsur – South America's Art Biennale 2019 – "Juntos Aparte" Columbien. "This will have been another happy day!" PalaisPopulaire der Sammlung Deutsche Bank Berlin 2020.
Xenia Hausner lives and works in Vienna and Berlin.